NAKANO's
high-precision cutting Technology.

NAKANO's machining technology is used in a variety of industries,
including communications, medical, automotive, precision, and aerospace.
SCROLL
We will deliver the product within a week at the earliest.
Please feel free to contact us for prototype manufacturing.
The delivery time depends on multiple factors.
Microfabrication

In addition to applying microfabrication technology at the micron level for precision microfabrication, we devise our processing method for the difficult processing requests.

Complex-shape machining

NAKANO specializes in machining complex shapes. Our full-time CAD/CAM programmers can quickly create programs for complex three-dimensional workpieces and start up machining.

24-hour operation

To meet customer needs for "quick delivery", NAKANO Fukushima Factory has a 24-hour production system in place.

Support high-mix low-volume prototypes

The product development costs and time can be reduced by in-house production of jigs and simple molds. We achieve high-mix low-volume production by using the most appropriate machine for each processing request.

JISQ 9100 certified

NAKANO is certified in JISQ 9100, a quality management system standard for aerospace industry, to enter the business of machining parts for aircraft and aerospace.

Ready for FDA medical device manufacture inspection

Manufacturers and sellers of medical devices are required to comply with the quality management systems and standards set forth by the FDA. Of course, NAKANO is fully prepared for FDA inspection.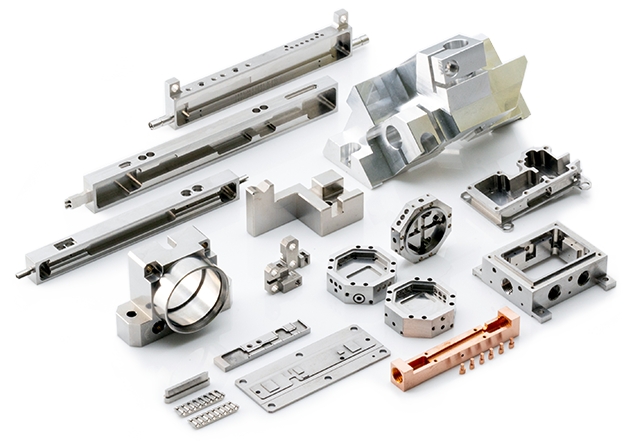 NAKANO specializes in high-accuracy precision machining for difficult-to-machine materials and non-ferrous metals.
NAKANO is a professional precision machining company. specialized in machining difficult-to-machine materials with high accuracy. The key to our success is the NAKANO's various state-of-the-art equipment, such as 5-axis machining centers and 3D coordinate measuring machines and the technologies cultivated within Nakano INC. for decades. We specialize in machining Kovar, Inconel, molybdenum, stainless steel, and titanium. Our products can meet the needs of many industries, including medical, aerospace, defense, optical communication, semiconductor, and automotive industries.
NAKANO's production system meets the criteria
of aerospace industry and other cutting-edge fields.